🎨 Turn your photo into a masterpiece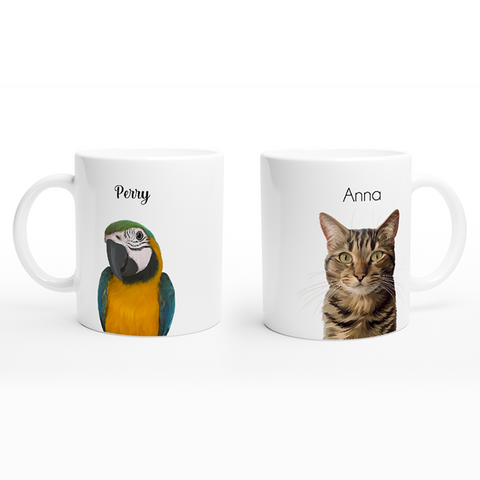 Enjoy your morning tea or coffee with our 11oz (325ml) custom pet mug, the perfect way to remember your four legged friend. Custom pet mugs are a great gift for friends and family, or the perfect keepsake for a colleague.

Our mugs are printed on shiny white ceramic, and are both dishwasher and microwave safe. Using an advanced dye sublimation print process, mugs are finished with a protective ceramic glaze to achieve a crisp and vibrant end result.
11oz mug dimensions: 96 x 81 x 90 (mm)
How it works
Select a font
Enter your pet's name
Upload your pet's photo. Make sure you follow our

image guidelines



All mugs are shipped free within 7 business days.
Why choose us?
Hand-picked design talent

Our talented design team is experienced in achieving the perfect outcome for thousands of pet owners like you. Each artwork is finished to perfection using digital hand manipulation and vector graphics.


Made in USA

Our business is proudly homegrown, supporting local talent and supply chains. This also helps with fast delivery turnarounds, so you can receive your artwork at last minute notice.

5✰ reviews

We have received more than one thousand reviews from happy pet owners across the country. Our track record speaks for itself, take a look!


Sustainably sourced

Our printing operations are 100% carbon-neutral to ensure that our carbon footprint is offset by supporting worldwide rejuvenation initiatives.